Trainslate Thai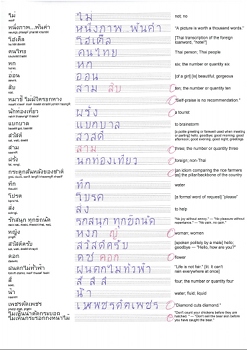 exercise sheet
Are you proficient in English and would like to exercise Thai vocabulary? Then, the software on this webpage might prove useful to you!
* The source code is included in the archive. The software makes use of the word and expressions list on thai-language.com
Sonny: Maybe they'll share some of that with us.
Ree: That could be.
Sonny: Maybe we should ask.
Ree: Never ask for what oughta be offered.
Winter's Bone
Getting started
Please download and extract the archive Trainslate.zip to a location of your choice. Execute the following file in the root directory

  launch_thai.bat

If nothing happens, install Java 6 JDK or JRE and try again.
You personalize the software to your own needs. Simply search and select the expressions you wish to train from the Thai-English browser. If your operating system does not support to type the Thai alphabet with the keyboard, you can fall back to a graphic Thai keyboard.
To practice Thai pronunciation, the software supports the playback of about 13k expressions. Although for you it's just a mouse click, the sound is retrieved online from the website thai-language.com in the background. However, once you have played back an expression, the respective sound file is cached on your computer for quick replays.
There is only one expert on you
and that is you.
Thailand
In 2011, I attended the marriage of two former fellow students in Thailand. Together with our former student group, we spend two weeks to visit beautiful spots in the country:
The marriage ceremony was held from morning to evening at the Sukhothai Hotel in Bangkok. On the following days, we undertook several daytrips, for instance visiting temples and ruins at Ayutthaya in the north of the capital.
Then, we flew to Chiang Mai to hike in the rain forest, bathe in the creeks, and ride elephants. Overnight, we lodged in the amazing Panviman resort.
Flying further to Phuket, we hired a speedboat to reach the many islands in front of the coast, the most famous one being the James Bond island.
The final destination was the town Pak Chong to launch excursions to Khao Yai national park. We were lucky to see a bear, different species of monkeys, a scorpion, and a snake. Pak Chong is not very touristic; the locals are curious and welcoming.
In Pak Chong, I met Aod, a local teacher who introduced me to the market, the restaurants, and the Thai sauna at the temple. He offered me to work as a teacher at his school the next time I come into town.
Reason is, and ought only to be
the slave of the passions
David Hume
---