Trainslate German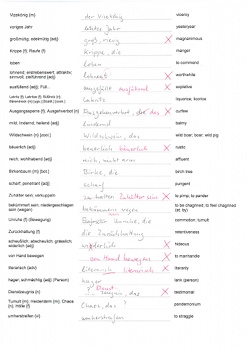 exercise sheet
Are you proficient in English and would like to exercise German vocabulary? Or, are you a German who would like to improve your English vocabulary, for instance before traveling the British Commonwealth, or Guantánamo Bay? Either way, the software on this webpage might prove useful to you!
Trainslate German helps you exercise your English-German vocabulary on a regular basis. Starting from scratch, you can begin and steadily extend your personal set of vocabulary and expressions. Conveniently select words and phrases, that you wish to learn and habituate to from a database of 258k expressions. This approach makes Trainslate German useful for people of any level of proficiency and different areas of specialization: synonyms, technology, biology, etc.
The software prints out vocabulary exercise sheets that are personalized to your progress. Words and terms that you have difficulties remembering are asked repeatedly until you translate them properly.
Before you write down the translation of the English (or German) terms on paper, simply fold the page to hide the corresponding German translation. To check your answers after you have completed the sheet just unfold the page. Feed the words and terms that you didn't get right back to the software interface by marking only those English terms that have been translated incorrectly.
* The source code is included in the archive. The software makes use of the dictionary maintained by Frank Richter.
The idea for Trainslate German is by 谭亭序, who wishes to learn German. Myself, the author of the software, I maintain a selection of words and expressions of my own. Whenever I consume literature in English, this list is likely to grow.
The bad artists imitate,
the great artists steal.


Pablo Picasso


Banksy
Getting started
The software requires Java 6 JDK or JRE.
Please download and extract the archive Trainslate.zip to a location of your choice. Execute the following file in the root directory

  launch_german.bat

The software starts by downloading the latest German-English database provided by the Technical University Chemnitz:

The vocabulary browser helps you to select the words and expressions that you wish to train.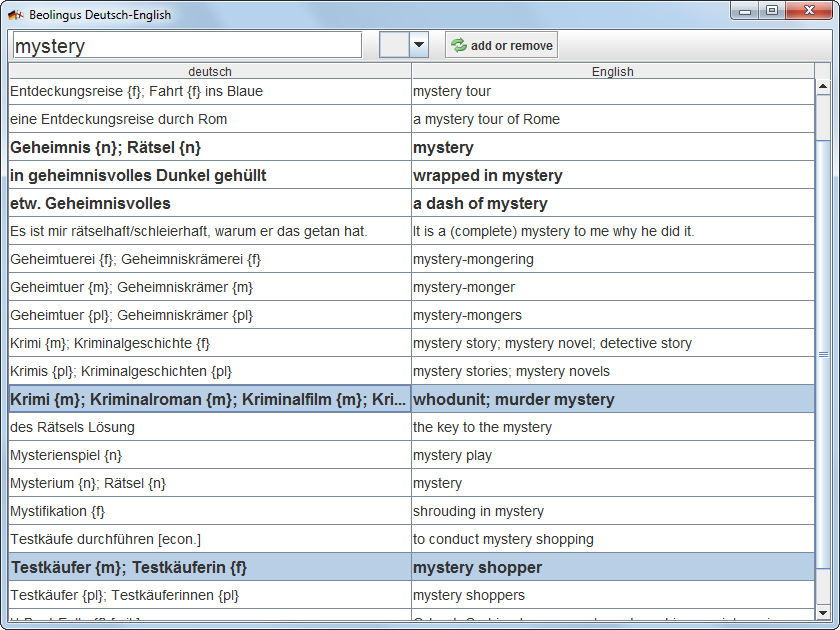 Clicking on one of the matches appends the corresponding Chinese characters in the text area above.
What are the differences between Mark Zuckerberg and me?
I give private information on corporations to you for free, and I'm a villain.
Zuckerberg gives your private information to corporations for money
and he's Man of the Year.
Bill Hader
Great spots in Australia
If you can keep your head when all about you
Are losing theirs and blaming it on you;
If you can trust yourself when all men doubt you,
But make allowance for their doubting too;
If you can wait and not be tired by waiting,
Or, being lied about, don't deal in lies,
Or, being hated, don't give way to hating,
And yet don't look too good, nor talk too wise;
If you can dream - and not make dreams your master;
If you can think – and not make thoughts your aim;
If you can meet with triumph and disaster
And treat those two imposters just the same;
If you can bear to hear the truth you've spoken
Twisted by knaves to make a trap for fools,
Or watch the things you gave your life to broken,
And stoop and build 'em up with wornout tools;

If you can make one heap of all your winnings
And risk it on one turn of pitch-and-toss,
And lose, and start again at your beginnings
And never breathe a word about your loss;
If you can force your heart and nerve and sinew
To serve your turn long after they are gone,
And so hold on when there is nothing in you
Except the Will which says to them: "Hold on";
If you can talk with crowds and keep your virtue,
Or walk with kings – nor lose the common touch;
If neither foes nor loving friends can hurt you;
If all men count with you, but none too much;
If you can fill the unforgiving minute
With sixty seconds' worth of distance run –
Yours is the Earth and everything that's in it,
And – which is more – you'll be a Man my son!
Joseph Rudyard Kipling
In November and December 2010, I took a break from my work in Perth/Western Australia to visit the south and east coast of Australia. The route in brief: Nullabor Plain, Great Ocean Road, Melbourne, Sydney, Brisbane, Whitsunday, Cairns, Ayers Rock, Coober Pedy, Esperance, Albany.
Melbourne/Victoria is my favourite city. Numerous beautiful art galleries and theaters guarantee to amaze their visitors. Bus and tram lines pervade the city, so a combination of public transportation and walking is the most convenient way of getting around.
The Pacific Hwy between Gympie and Maryborough/Queensland was temporarily closed due to flooding. I decided not to wait, but to detour via Biggenden. When I passed an isolated mountain in the midst of an otherwise planar terrain, I immediately felt the urge to climb it. That mountain turned out to be Mount Walsh. As it had rained just hours before, the climb was challenging and rewarding.
90 km northeast of Townsville/Queensland, along the Pacific Hwy, flourishes the Rollingstone State Forest. The road leading to Paluma crosses the Crystal Creek. Bathing in the cascade of waterfalls is infinite fun. You can let yourself drift from one basin to the next below with the torrent.
To see the wonders of the Great Barrier Reef I recommend to book a diving/snorkling daytrip with Illusions at Airlie Beach. Their boat sets off from Whitsunday/Queensland and leads you to two magnificent spots to gaze at the fish and corals in the area. The time in the water totals approximately 2.5 hours.
Since the temperatures in December is generally hot, I quite often found myself ending up at a beach eager to have a swim and cool down in the water. Except when there were warning signs for jelly fish or crocodiles, I rarely missed out on an opportunity to go into the water. So where are Australia's most beautiful beaches? In my opinion, the city of Esperance/Western Australia and surroundings have the best of its kind. The Cape Le Grand national park close by is also all about beaches and sealife.
Before going on the trip, I have downloaded several CDs worth of interviews by Margaret Throsby that are broadcasted by ABC Classic FM. When driving for an extended distance, I lived off of these interesting, inspiring, moving conversations.
---