Surfaces of revolution • from [Kü03] pp.52-54
We walk thru the computations carried out on pages 53-54 in [Kü03] to compare the results.








We make the same assumptions as [Kü03].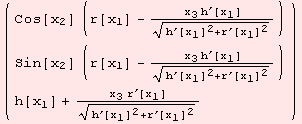 All figures below are labelled. Without additional assumptions, the geometrical expressions get quite complicated.





To simplify the discussion, at this point [Kü03] makes the stronger assuptions that the curve (r,h) is parametrised according to arc length.






All expressions are labelled:








---